Greetings, fellow crawlers! My apologies in advance for the possibly excessive vigorousness and verbosity of this introduction and the rest of the post - I'm a socially awkward weirdo who doesn't really know how to words. Talk be hard.
Aaanyhoo, as a small contribution to hopefully start livening things up around here, here's my very first post on this lovely cozy platform - a screenshot of a little something I managed to get during the first hours when 0.30 just came out, but couldn't quite work up the courage to post on Reddit.
I'm sure there are words to describe the entire spectrum of emotions that hit me when I saw that tiny white-on-black message pop up on my screen. I do not know what these words could be, though, so it'll probably be best if I shush up now and let the screenshot speak for itself.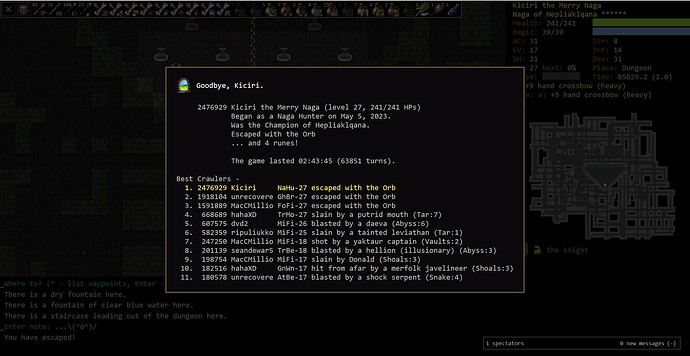 And while this post will likely be quickly forgotten and buried in the annals of history, as most awkwardly presented things Internet do, I know that I myself shall hold the dear memory of this one-of-a-kind achievement very close to my heart and cherish it like a creepy tarnished teddy bear, forever.
And ever.
And ever. 0_0
mlem